Our work on sustainability 
Social responsibility is not something we are assigned, it is something we take. SpareBank 1 SR-Bank takes account of social and environmental factors in all of its day-to-day operations. This has formed an important part of our core philosophy since the establishment of Egersund Sparebank in 1839. 
The group has in-depth local knowledge and is close to its customers, and contributes to positive community development through value creation. This involves stimulating growth and development, while ensuring our activities are based on good practices. Although we primarily focus on our immediate surroundings, we are also interested in ensuring that everything we do is sustainable from a global perspective.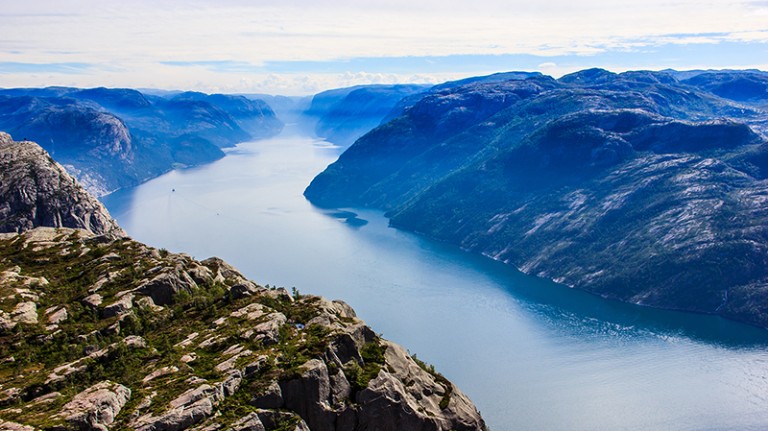 We set clear requirements for our own organisation, suppliers and partners in order to ensure we are a resource-efficient and environmentally friendly organisation. The group does socio-economic impact analysis covering CO2 emissions, technological waste, reductions in paper consumption, energy consumption, etc. Our total CO2 emissions for 2017 amounted to 507.5 tonnes. 


All of our activities take place in Norway and are subject to Norwegian law and international conventions incorporated into Norwegian law. We respect fundamental human rights, labour rights and basic social needs. The requirements concerning labour rights also apply to our suppliers.

Gender equality

We are actively striving to achieve gender equality between men and woman in the group. A gender equality committee was established in 2017 and tasked with ensuring the group focuses on gender equality work. The gender equality committee reports to the group's liaison committee, which is composed of representatives of the executive management team and trade unions. 


The group has developed a code of conduct to create awareness about ethical issues and ensure that all of our employees maintain high ethical standards. The code of conduct is an important tool for combating corruption, extortion, bribery, money laundering, fraud, terrorist financing and the funding of criminal activities.

Each employee signs up to the code of conduct every year. Annual refreshers on ethics are also provided through the authorisation scheme for financial advisers and the authorisation scheme for sellers and advisers in P&C insurance.

Ethics committee

The ethics committee continually assesses whether the code of conduct satisfies the requirements and expectations of customers, suppliers and society. The group's ethics committee held four meetings in 2017.

Our investment activities comply with Norwegian laws and rules that are intended to ensure that the group does not contribute to violations of human and labour rights, corruption, serious environmental harm or other actions that could generally be considered unethical. We will not invest in companies which, themselves or through entities they control, produce tobacco or pornography. The same applies to investments in companies involved in anti-personnel mines and cluster weapons, or in companies that develop and produce key components of weapons of mass destruction.

The group both makes direct investments and acts as a distributor of investment products on behalf of Odin Forvaltning AS and SpareBank 1 Forsikring. Both have clearly defined investment strategies that integrate corporate governance and social responsibility in their assessments and decisions.

Direct investments are made by both the bank and the bank's wholly owned subsidiary, SR-Forvaltning AS. The company manages investments on behalf of both the bank and the group's customers. The company practises a clear policy of only investing in companies that fulfil their responsibilities to ensure that human rights are addressed, corruption is combated and commercial activities are sustainable.

All of the companies we are considering investing in are checked against  the exclusion list issued by  Norges Bank Investment Management (NBIM). Digital searches are also conducted in relation to all relevant companies in order to identify potential breaches or controversial involvements before a decision on investment is made. 

We make numerous purchases every year, some of which are very large. We set requirements for our suppliers of goods and services in connection with these. We particularly focus on human rights, working conditions, the environment and fair operating practices.

Suppliers who want to provide services to us are obliged to comply with national and international rules and requirements. Purchase agreements must comply with applicable industry standards and SpareBank 1 SR-Bank's own internal guidelines.

Suppliers, and their subcontractors, must always be up-to-date on, and comply with, statutory requirements, regulations or other official rules that apply to their operations. Each company is responsible for ensuring that they hold the licences and permits they require to provide their services. 

Our credit strategy emphasises that corporate customers should have a long-term perspective and that their companies must be operated in compliance with current laws and regulations, which includes environmental considerations and human rights. The group has no credit exposure in relation to either coal mining or coal power plants.

Read our sustainability guidelines for the corporate market (pdf)

Combating economic crime is demanding and it is one of the financial services industry's social responsibilities to ensure that its products and services are not used for illegal purposes. We comply with statutory requirements and take measures aimed at combating money laundering and terrorist financing. Our anti-money laundering and sanctions policy provides a general description of the group's approach, including guidelines and principles that apply to the company's management and control environment, as well as to how the organisation is structured in order to comply with statutory requirements. We have also committed to complying with the framework and guidelines in the Wolfsberg Act to combat economic crime.

In order to provide our customers with enhanced protection against ID theft, attempted fraud and other forms of economic crime, we comply with the requirements of the Norwegian authorities, the Money Laundering Act adopted by the Storting (Norwegian parliament) at any given time, to ensure that all customer information and identification is up-to-date. Togheter we can prevent money laundering (in norwegian).